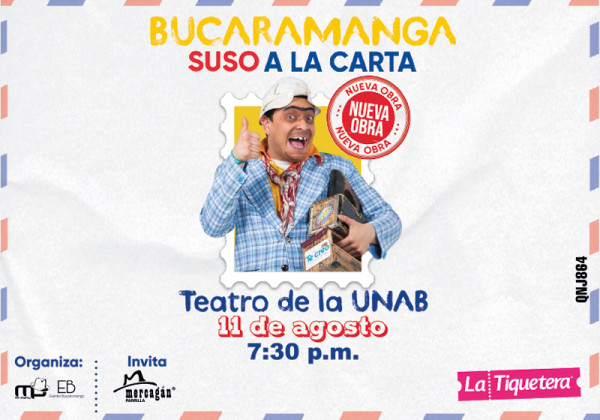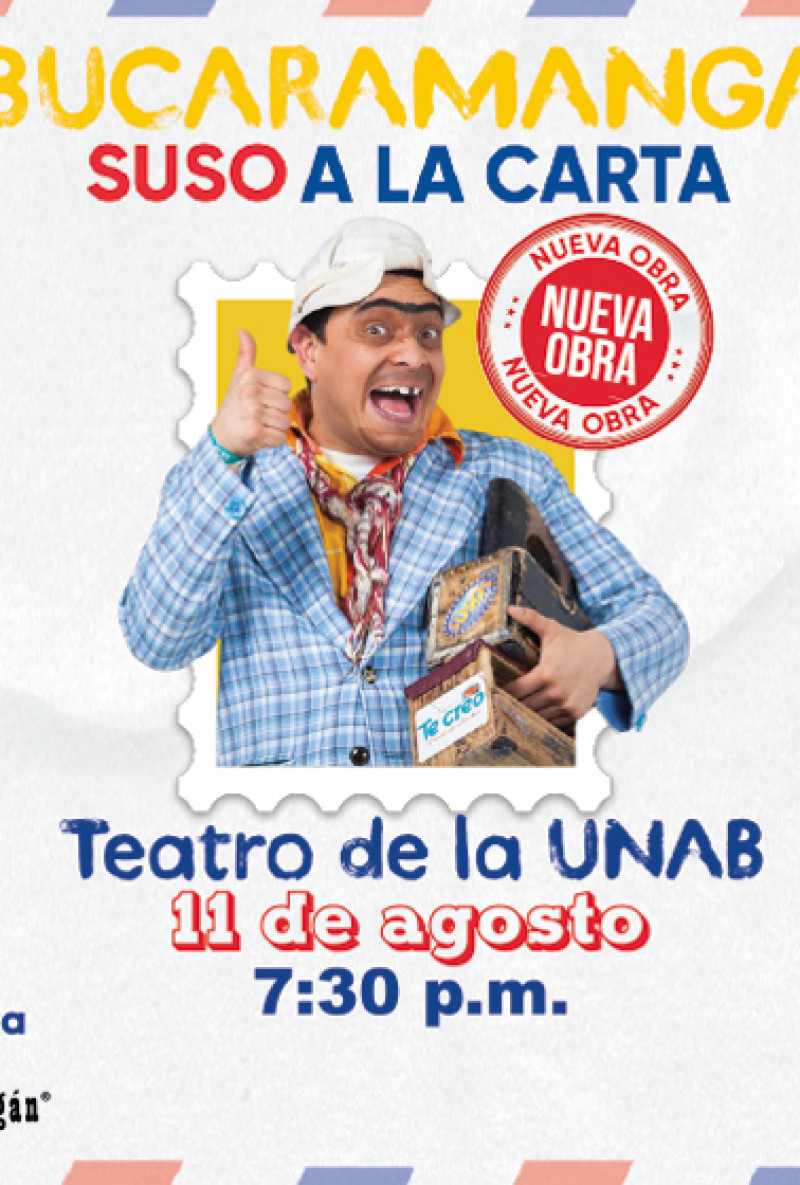 Category: Stand-Up Comedy
Min allowed age: All ages allowed
Accommodation: Silletería numerada
Place capacity: 795
Food Sale: NO
Liquor Sale: NO
Handicap friendly: YES*
Pregnancy friendly: YES**
SUSO A LA CARTA EN BUCARAMANGA
En esta obra, Suso habla de la importancia de la salud mental. Los trastornos psicológicos, el suicidio, la depresión, la ansiedad y el matoneo en el colegio. Suso nos cuenta sus traumas y le hace unas cartas a su papá ausente y a los compañeros que le hacían matoneo en el colegio.
Todo esto ambientado con situaciones divertidas que harán reír al público y reflexionar sobre la importancia de la salud mental.
AUDITORIO MAYOR DE LA UNAB

Viernes 11 de Agosto 2023
HORA 7:30 PM
Apertura de Puertas 6:45 PM
IMPORTANTE PARA EL ACCESO AL TEATRO

- Recomendamos llegar con tiempo.
- Procura hacer la compra en línea, reclamar la entrada con tiempo o si es digital tenerla descargada.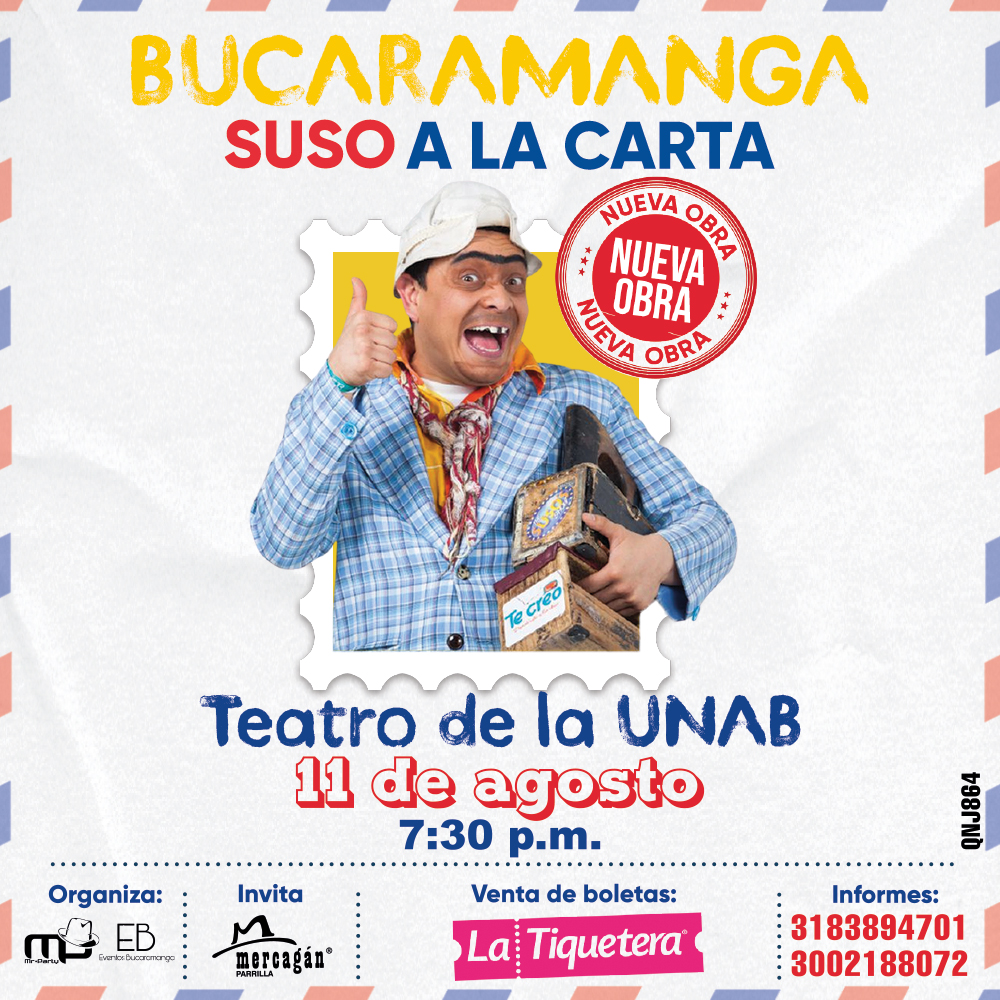 AUDITORIO MAYOR CARLOS GOMEZ ALBARRACIN (UNAB)

Bucaramanga, Santander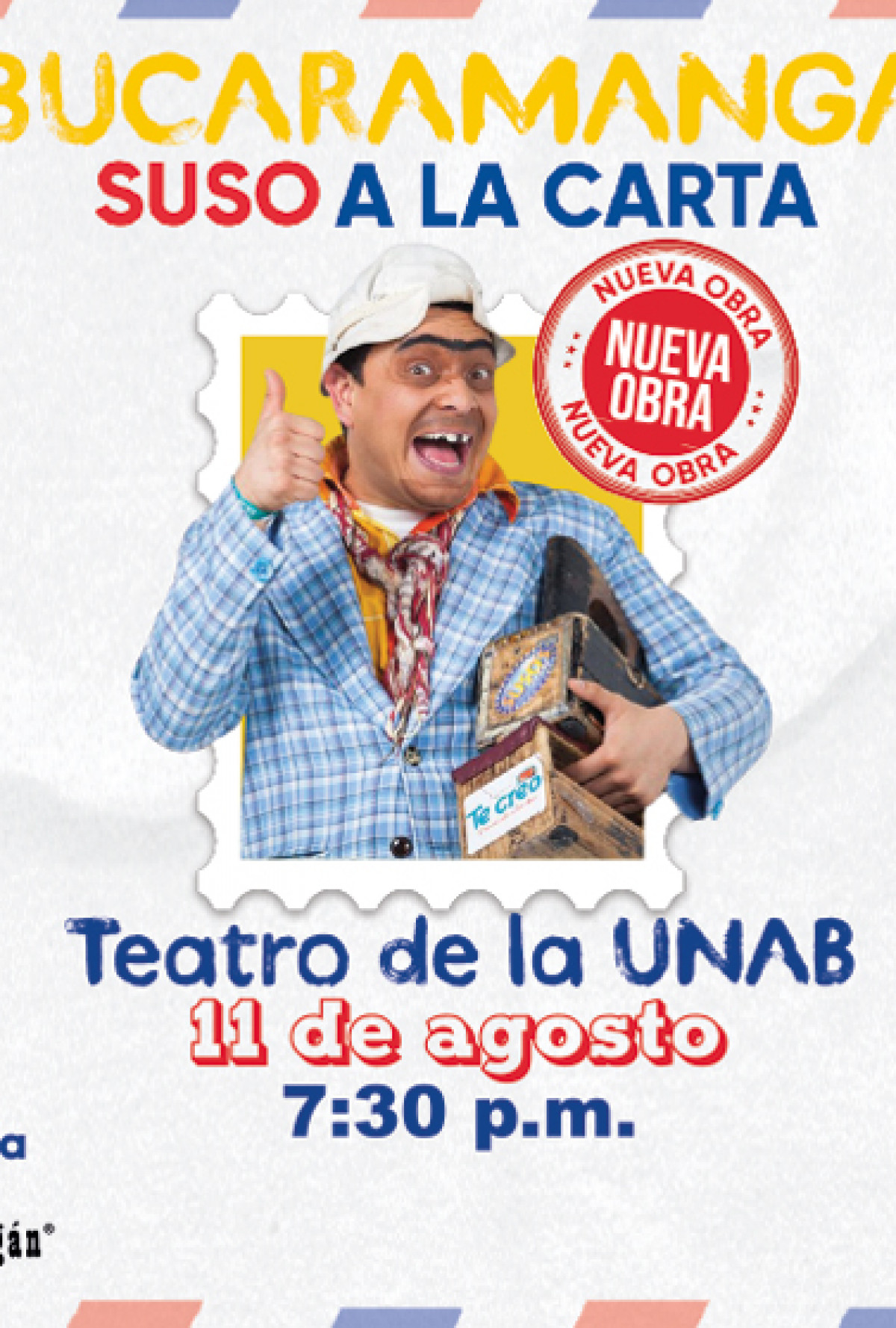 TERMS AND CONDITIONS
Las entradas podrán ser reclamadas únicamente por la persona que figura en la tarjeta de crédito o débito utilizada para la compra.
Deberá presentar la tarjeta de crédito original (no se aceptan fotocopias de las tarjetas; en caso de usar una tarjeta de crédito virtual, se debe presentar un documento emitido por el banco en el cual conste la relación de tarjeta habiente).
Deberá presentar el documento de identidad en original y también deberá entregar una fotocopia de la cédula por las dos caras.
El valor de la entrada publicado ya incluye el precio del servicio que varía dependiendo de la localidad.
La entrega es personal e intransferible, solo se entrega al titular de la tarjeta de crédito o débito.
Debe presentar el documento de identidad en original del titular de la tarjeta de crédito.
Una vez adquirida su entrada y finalizada la compra, no hay reintegros de dinero.
Los descuentos no son acumulables y no aplican sobre el servicio de La Tiquetera.
See full terms and conditions
Credit card payments
Tickets purchased with a credit card or debit card are subject to approval and verification by the bank.
To avoid being scammed, we do not have external sellers and/or promoters, your safety and peace of mind is important to us, for this reason we can only respond to you for tickets purchased at our official points of sale, remember that the originality of the tickets will only be verified at the entrance to the event. LaTiquetera is the only authorized ticket office operator.
Tickets paid with credit or debit card, must wait for approval from the bank side.
To avoid to be conned, we have no external sellers. Buy our tickets only in the official points of sales, the tickets will be verified before to enter to the event.
*If you have any kind of physical handicap, please report it to the officer in the entrance, we will suggest or lead you to a proper place. You can also comunicate with us in the line: (604) 3625757 / (601) 4823233
**Pregnant women at your own risk
Mincultura Scenic Arts
PULEP QNJ864

Responsible:
DIEGO ARMANDO MORALES CASTILLA
Identification/Legal id 1098640696
Address CARRERA 24 # 35 - 198